This week's edition of the cute kid pic is from this past Sunday, when Daniel was over at his aunt's house for a few hours to play with his cousins and spend time with Gramma Gabby, and leave Mommy to get some cleaning and homework done. And, you know, a general rest. I've been bushed, man.
Aunt Sister gave him a banana, and oh my goodness, he went to town on it. Ate damn near the whole thing, and had a BALL.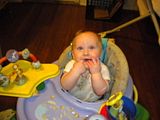 Also, he has finally achieved the 'holding-the-bottle-on-my-own' thing. I'm so proud!